Filament Tape In Mumbai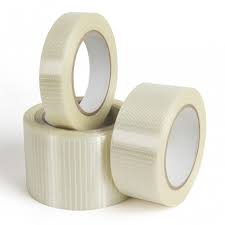 Enquire Now
The fiberglass filament tapes are used to increase the strength and integrity of the tape. As the prominent Filament tape manufacturers in Mumbai who supply in Mumbai as well, only deal with high quality, durable and strong filament tape for light-duty, strapping, bundling and reinforcing. These tapes have a synthetic rubber resin adhesive which increases the adhesion to almost all kinds of surfaces mat it be glass, wood, metal, etc. 
Well-designed Tapes
We are proud to stand among some of the well-experienced Filament tape suppliers in Mumbai. With us, you can avail tapes that are designed for different applications which need heavy strength of polyester and high mechanical strength of glass fibres.
Characteristics
Used for utility, bundling, reinforcing and pallet utilizing applications because of its light-duty high strength quality.
Synthetic rubber adhesive works on all kinds of surfaces.
Has transparency for clear visibility of graphics, printings, and illustrations on packages.
The tape is abrasion, moisture and scuff resistant.
Being the leading name in this industry, we are able to provide reliable Filament tape in Mumbai.
You may be intrested in this :