Floor Marking Tape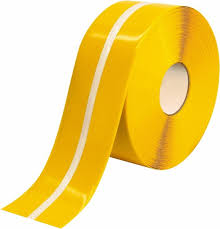 Enquire Now
Floor Marking Tape at Shaktiman Packaging Pvt. Ltd.
Floor Marking Tape is available in standard as well as customised specifications to meet the exact requirements of the application areas. The timely delivery is also a factor that plays a vital role in the enhancement of the market demands. Moreover, we are looked upon as one of the supreme Floor Marking Tape manufacturers, suppliers and exporters from Haryana, India.
Get these amazing products at the budget-friendly price range
The company is committed to offer optimum quality packaging products at the price that completely suits your budget. Having an advanced manufacturing unit, the company is fully capable of entertaining bulk orders prior to deadline. These tapes are manufactured using premium quality materials and are ISO 9001:2008 certified.
Features
Durable.
Moisture resistant.
Reliable.
Affordable price.
Easy usability.
Withstand the effects of time.
Powerful and permanent adhesion.
water & heat resistant.
You may be intrested in this :